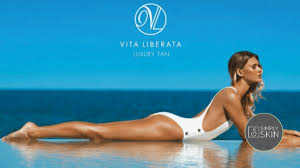 VITA LIBERATA
€40 full body Half body €30
Known as the RED CARPET TAN, or THE A LIST TAN, Vita Liberata has been spray tanning celebrities for years and is popular due to their last-minute spray tans that can be worn the very same evening. Over the years they have honed their skills and now have pieced together the best spray tan from different celebrities and different requests producing the new Vita Liberata Red Carpet Tan.
The treatment is halfway between a fake tan and a wash-off tint. This means that the tan creates an instant glow, which of course is best for those last-minute events such as award ceremonies, fabulous parties or dinners (hence its popularity with celebrities) and a subtle radiance that lasts but is not too obvious. As the formula is odorless, no one on the red carpet can smell a thing, which makes it perfect for a little last-minute glamour.
This best spray has become loved the red carpet favorite and adored by the celeb world. Read the reviews and comments on what they have to say about the best spray tan products.
Liquid Gold
€35 full body Half body €25
Liquid Gold is a safe DHA spray tan solution with no harsh smells and or deadly chemicals. This UV- Free tanning solution gives a natural-looking tan with a slight golden effect. Enhanced with Anti-aging Botanicals and antioxidants, with rich moisturizers, it makes a wonderful solution for any type of client.
• UV-Free Natural Looking Tan
• No Deadly Chemicals
• Ho Harsh Smells
• Enhanced Solution With Anti-Aging Botanicals And Antioxidants
• Perfect For Those Who Love To Be Tan, But Want To Avoid The Harmful Effects Of The Sun, Like Cancer And Skin Damage Such As Wrinkles And Sun Spots.
SunFX Tanning
€35 full body Half body €25
SunFX spray tanning solutions are 100% all-natural – they don't contain any chemicals.
Prolonged sun exposure can quickly age your skin, causing it to dry out and wrinkle. It can even cause skin cancer. Spray on tans that use harsh chemicals and additives can also damage your skin causing it to look weathered and old.
But a SunFX all-natural spray tan is the healthy sunless tanning alternative, offering perfect coverage for a fast, natural-looking tan every time.
SunFX is the fastest, healthiest way to get the perfect all-over tan.
So if you want the perfect spray tan don't go to just any beauty salon– go to a beauty salon that uses SunFX
Wild Tan
€35 full body Half body €25
Contains Vitamin A & E, Aloe Vera, Paraben Free, Fragrance-Free and Alcohol-Free, 100% Natural Ingredients"
"Show Off Your Wild Side"
Fast-developing, Alcohol-free, Fragrance-free. Non-sticky, Hypoallergenic, Fast drying
Effective moisturisation, is not streaky, and a lovely smell.
Everyone's skin is different. This is why Wild Tan has developed an exclusive range of paraben-free alcohol-free and fragrance-free spray solutions, that can be used either on their own or blended to create the perfect individual result.
The products also contain high quality anti-oxidants, which are reputed to have anti-aging effects.
Californian Tan
The quick-dry formulation gives you a healthy summer glow without sun damage. Provides superb even coverage for a rich bronze glow. Breakthrough fragrance technology eliminates odors at the source replacing them with a fresh, sunny fragrance. Instant sunless spray.